Once upon a time, we mistakenly believe that red is antonym of western wedding, and no one dares to wear a red gown on her big day. No! No! No! Red stylish wedding gowns are coming on the vogue these months! In fact, as long as the red is used properly and you focus on the harmonization of the scene and the re-combination of details, it will show everyone plenty of new ideas and surprises.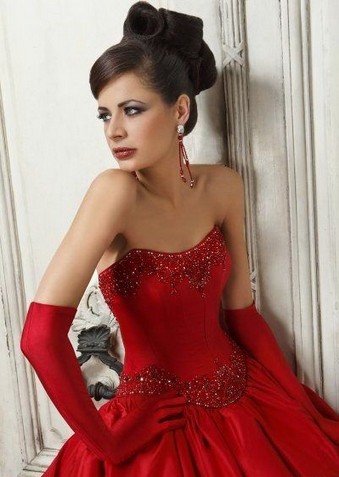 Strawberry Corner
Fresh berries and strawberry and bright red flowers decorated in red and white ribbons on a white wedding cake bring incomparable fresh feeling. The traditional three-tier wedding cake is filled with vanilla cream and hibiscus jelly, wrapped by a layer of white sugar paste, liking an elegant young girl wearing a sweet new clothes.
Bouquets of red hapiness

The structure of bouquet in the bride's hands is not complicated. Just red roses, sea jade, cockscomb and red orchid freedom combine with a number of dazzling laces, silhouetted against red flush of joy on the bride's face, flaunt incomparable happy expression.
Warm seat card
Table card spelled by rose petals with warm and unrestrained written numbers on it, waiting for guests to find them. They act as a seat card role of the appropriate guidelines. The dotted fresh and elegant flower pattern on the silver-gray silk tablecloth echoes silk saffron on the welcome table.
Red joy
Red invitations set the tone of beaming and the printed handwriting is angrier than stiff writing body. Florists personally glue a bow on the cardboard and glue one of the most beautiful roses with the help of the tweezers, simple lines, warm feelings, just waiting for the guests to go to this wedding dinner.
Tropical drinks
The vodka blends with fresh strawberry juice and the girl guests will love this cup strawberries sinks. The lemon slice on the edge of cup, red tablecloths, red edge of napkin, these make every single girl recall their last single time.
Dazzling chair
Red chair flowers behind the white leather seats avoid the unexpected sense in the visual brought by the white; while two roses adorn the main table in the back / direct guests seated, echoing the overall tone and style.
Sincere thanks
The heart-shaped chocolate cookies packed in plastic sheets, hung red ribbons by the bride and groom, representing newcomers most sincere gratitude.
Red bridesmaid's dress uniform
Under the blue sky, the bride with white wedding dress is the most beautiful woman. As a bridesmaid, how to echo the red theme? Maybe red bridesmaid dress is a little too stunts, but if everyone takes a red silk umbrella, it is not only elegant but also full of Chinese characteristics?
The red color is the most suitable bride
Red reveals fashion and passion. The bride wearing a red haute dress appears in the dinner to entertain guests, with the right handbag and jewelry, this evening the "most Reds" is the beautiful bride anyway!