It is almost every girl's dream that has a great prom night in stunning prom dress. But some girls will annoyed for having no suitable dresses for their unsatisfied body shapes. Actually, if you have succeeded in selecting a right plus size dresses, you also can do it.
It is good news that there are a variety of plus size prom dresses designed for girls who have chubby breast and hips now. What important is then choose a right plus size dress, according to your own style. Here are three tips that you can't miss to tell you how to select a great plus size prom dress.
Avoid Body Shape Weakness
The term plus size dress does not means that all plus size women share the same body shape. Being familiar with how your body looks like will be able to guide you selecting with the type of dress that suits your body type. Plus size dresses that are just right for your body shape conceals your body's shortcomings. May it be mermaid, A "" line or a ball gown.
A right plus size dress should hide the flaw and emphasize the assets. If you are bosomy girl, the halter plus size dress or V-neck plus size dress is good to accentuate bust shape and flatter your figure. By the way, plunging necklines is not the only solution if you are not comfortable in them.
Some plus size dresses in bright color would be a not bad choice for plump girls, such as red plus size dress, blue plus size dress and so on.
Keep It Simple
The quotation "Less is best" can be totally applied in this one because too much designs in your bridal dress might cause your appearance to be lumpy and bulkier leading to a heavy impression. Your assets might be over shadowed by the dress' complicated adornment. Also, minimalism in plus size dresses facilitate a thinner illusion making you appear slightly smaller than your actual size.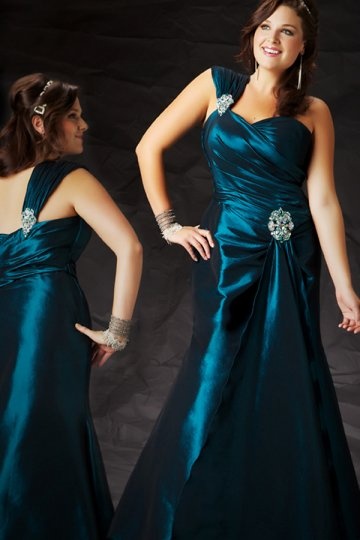 Comfortable
No matter what style dresses you choose, the most important thing should be comfortable with plus size dresses for their prom or evening. What other people say, don't really matter when it comes to personal comfort. If you have chosen your dress, ensure that you are at ease with it, you are one with it, and after all it's yours.
Remember that if you are also want to be the center of the event, therefore, having gorgeous plus size dresses for your prom will ultimately add your radiance and glow on that special day. In addition, you should feel good about yourself in order to create positivity in your appearance.