The sparkling Hollywood actress, Emma Watson has grew into a gorgeous lady
The premiere of "The Bling Ring" was held in Los Angeles, and Emma Watson the leading actress in this movie has draw great attention for her mature dress up, and showed her elegant feminine charm, from the role of Hermione, to today's sparkling Hollywood darling, Emma Watson has grew up into a attractive lady, every time when she shows up to important events, she will impress us with amazing dress up, now let us look back her gorgeous evening dress looks.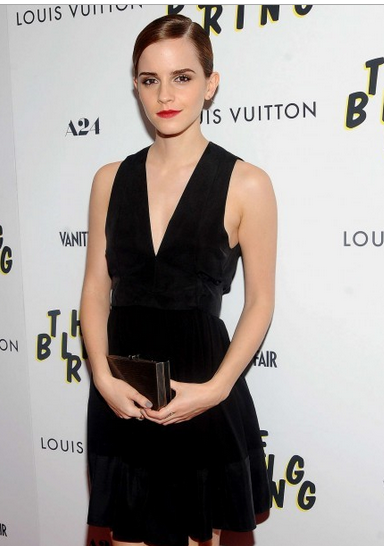 In this week's fashion magazine, Emma Watson tops the popular list again, but this time Emma Watson has been named as "the most dangerous famous people" for her name at many search engines, such as Google and face book, is being link with link spamming, Emma Watson is being so popular among young people all over the world has something to do with her inherent elegance, and her unique taste in fashion, in the real life, Emma Watson is much more sensitive in fashion and she tends to dress up in a mature way, at the premiere of the bling ring, Emma Watson wears a grey and black montage evening dress, the grey shadow at the evening dress better shape her curve, and with a cute black belt at her waist, this lady looks like a wild hunts women from the movie of The Snow White and the Huntsman. Emma Watson has a special preference to deep color evening dresses which can enhance her mature temperament, at the promotion ceremony of "This is The End", Emma Watson wears a zebra stripes evening dress, continues her mature dressing style.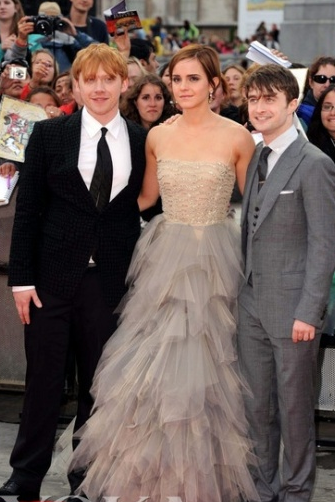 Apart from the classic grey and black evening dresses, this fashion darling is also fond of picking out the classic white and black evening dresses, though most of the dresses she picks out tend be in the deep colors, but this dressing style is assuredly the safest way in Hollywood red carpet events, it will never make you rand at the list of "the worst dressing style" list. At the Louis Vuitton promotion event, Emma Watson picks out a nice black and white evening dress by Channel 2013 haute couture, the sweetheart neckline is embellished with shining sequins and the stunning mermaid tail let her look gorgeous and elegant, the backless design of the dress also enable her to show off her fair skin and amazing curve, even when standing with many veteran actresses, she still glow and shine beautifully. At the Movie Awards, Emma Watson still continues her favorite deep color dressing style, the hanging neck style knee evening dress of Maxime Simoens 2013 makes her the most eye-catching one that day.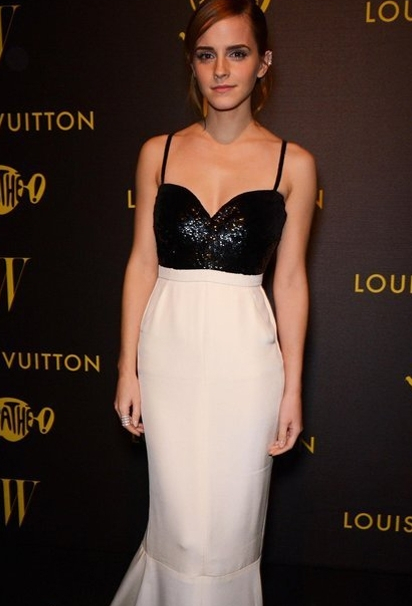 Emma Watson becomes the most dangerous famous people for her name at many search engines, such as Google and face book, is being link with link spamming has suggests this beautiful lady has become the most popular star in Hollywood and the hottest actress, Emma Watson has impressed us with her excellent performance in movie career, but also for her classic deep color evening dress looks.