Many ladies long to wear a beautiful wedding dresses on their special days,but how much do you know about the wedding dresses? Today, let's get to know the most popular fabrics in use.
Lace
In general, it was used as edge decoration and embellishment designs, and it also try large format on a wedding garment and at the hem.Lace is classic and it is widely used in the vintage style wedding dresses. In 2015, it will be in fashion again.
Spinning/man-made fibres
Fabric is stiff, nor does wrinkle easily. It's affordable and popular. But the disadvantage is a little tight.
Chiffon
Fabric is light, and elegant. It looks fresh and cool, and it's more suitable for summer wear.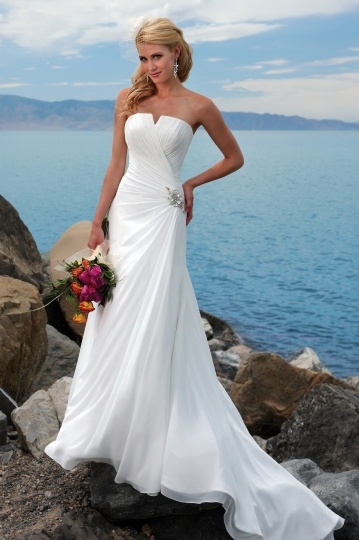 Silk
Elegant silk are often applied in wedding dresses, abd it suits rich and magnificent Palace-wedding dress design. But it's more expensive and prone to wrinkling. Therefore, it should be carefully managed.
Duchess Satin
It's a elegant, shiny fabrics, whiceh containing feminine.
Well, if you have a glimpse of the fabrics for wedding dresses, i'm sure that you will have more confidence in choosing your best wedding dresses.