Prom season 2012 is well under way. For Persun, it's time to start thinking about prom 2013.
As girls across the country don their frilly ballgowns and sparkling dresses, Persun's designers prepares to travel to southern China, where the designers will work on the hundreds of dresses that girls will choose from for next prom season.
                         Lynn Green shows off popular prom dresses in the showroom of his business
It comes just once a year, but prom fashions account for about half of the 25-year-old Persun's annual sales, James Chuang said.
"It's a once-in-a-lifetime opportunity," he said. "She goes to prom once, so she is willing to buy the best dress."
PERSUN's dresses average $180 and range from $70 to about $400.
Bright colors and fleshy tones will be common as girls take to the dance floor this spring. While many will wear ball gowns and classic evening dress "" the styels that never goes out of fashion "" James said some of the most fashion-forward teens will be wearing high-low gowns.
"The feature is short in the front and long in the back," he said. "That's a big trend today."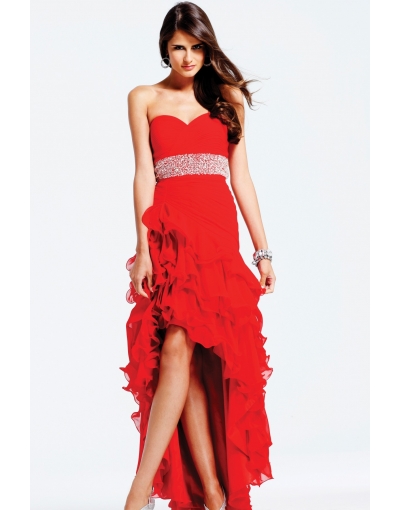 Plenty of feathers make a dress for prom 2012 even trendier, he said.
Of the 11 PERSUN fashion lines, six are for prom. From his Brad Darcy headquarters, James Chuang each one and then travels the world in search of the perfect fabrics to bring his drawings to life.
At this point, the sketching is done and it's time to start making samples of next year's dresses. From those, he will choose which dresses will be offered up to his more than 2,000 retailers worldwide.
As a leading designer of upper-priced prom gowns, PERSUN's head designer  Lynn Green helps to set the trends. But she also has to consider the opinions of parents and school officials when designing his prom fashions.
More schools, he said, are making rules about how much skin can show.
"We have to be closely in contact with all the school systems," he said.
Lynn Green doesn't want to say much about what his crystal ball of fashion shows for Prom 2013, but he does offer a hint.
"Look for trumpet dresses," he said, also known as a mermaid style. "That's going to be the big thing for 2013."