As the saying goes, a new year, a new you! For all the lucky ladies getting married this year, lots of changes are coming your way. Why not start your new life by ditching last year's bridal trends and embracing what new year has to offer? This week's post is part 1 of a three part series that will showcase the top 6 wedding dress trends for spring!
The spring trends are everything a bride could want: beautiful, charming, and somehow both simple and full of detail! Part 1 of our Bridal Trends Report focuses on two great trends we've been seeing on the runways, off-the-shoulder necklines and beaded bodices. And, best of all, following the latest bridal trends doesn't necessarily mean that you have to break the bank!
Here are some seriously stunning wedding gowns that are both chic and affordable! Check out our PERSUN collection for more elegant options.
Click on a picture to go to the product page.
Off-The-Shoulder Wedding gown
Match this shoulder-baring style with a loose fitting skirt to give it a subtly sexy look. A loose skirt guarantees you won't have to watch what you eat!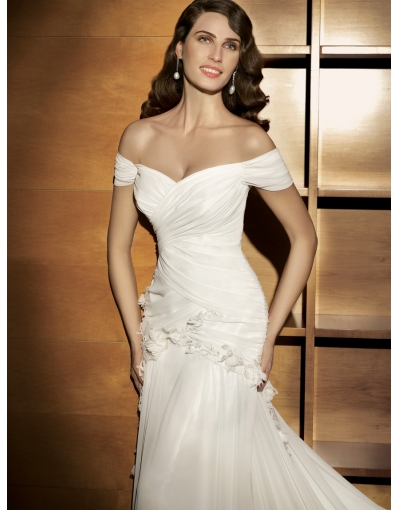 Beaded Bodice Bridal Ball gown
Intricate beading on the top half and paired with a fairly simple skirt is right on trend. And don't be afraid to go all out with the beading on the bodice, since you'll be keeping it simple down below!